World Record Circumnavigation 2016
Finishing Time:
290 7 36
Days Hours Minutes
|| A New Guinness World Record ||
In the adventure of a lifetime, George Agate and John Whybrow attempt to become the first people to Circumnavigate the Earth by Tandem Bicycle.
Photos by Danny Germain
An idea that was conceived in 2014, formed out of the looming question of "what is possible in a lifetime?", has snowballed into one of the biggest challenges taken on by a team of British explorers this decade. John Whybrow and George Agate will cycle their tandem bicycle, unassisted and carrying all their required equipment, for 18,000 miles, starting and finishing in the historic city of Canterbury, Kent.
The goals? To set the Guinness World Record for the first team to circumnavigate the World by Tandem. To open the eyes of many to the humans of our world and its vibrant population. To enthuse people to get on their bicycle and outside for an adventure. And to have a bloody good time doing it.
This expedition will take them on a route that heads eastwards, across the flats of Europe, through the Orient, traversing the Australian outback, and cruising the Pan American Highway. 4 continents, 28 countries, 2 Men and 1 Record.
Follow Us
Track our progress live:
Thank you to Follow My Challenge for their expertise in creating and collecting our data for the record attempt. Click the link to find out more about their services.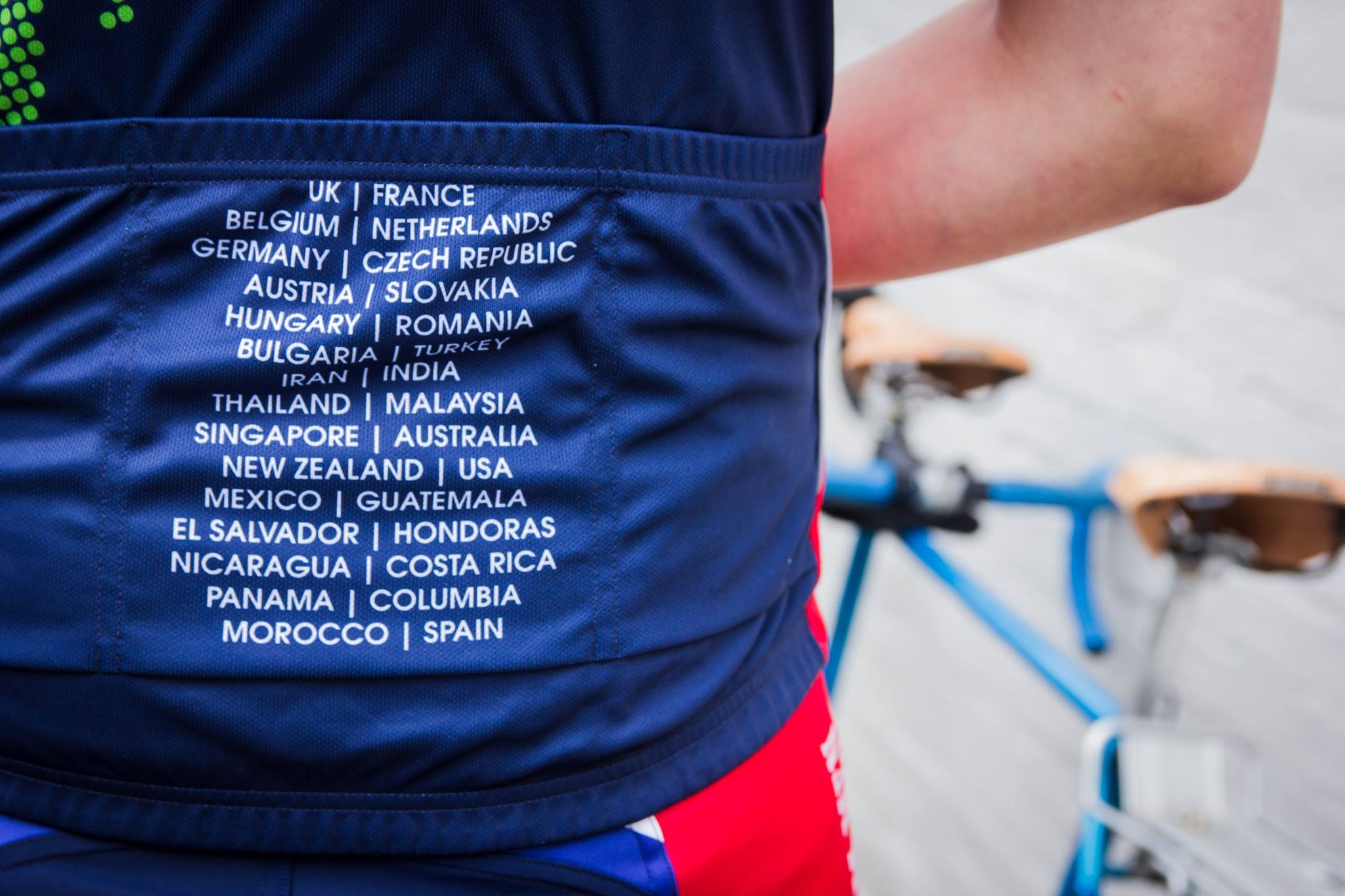 The Team
Riding a tandem for 18000 miles is an ultimate test of team work, but it takes more than just the two on the bike for the expedition to get on the road. Meet the team below and you never know, as we expand, one of them could be you!
Our Patron
We're proud to announce Sir Ranulph Fiennes as our official expedition patron.
Heralded as 'the world greatest living explorer', Sir Ran has seen the view from the peak of Everest, ran 150 miles in the Sahara, and skied to both poles to name but a few of his achievements. It is a great honour to have his backing as we prepare for June the 8th.
The Route
Following the rules stipulated by Guinness World Records, our route heads eastwards from Canterbury, UK, covering 18,000 miles, taking in 30 countries, crossing a set of antipodal points and requiring 6 flights.
Click on the map to zoom in and move about our route.
UPDATE:
The route has been approved by Guinness World Records.
Our target: £100,000
We have chosen 3 brilliant causes to support on this journey, who's work changes the lives for many both locally and internationally. These charities are; Porchlight (which will receive 34%), Great Ormond Street Hospital (which will receive 33%), and WaterAid (which will receive 33%).
Join The Ride
Grab your bike, bring your packed lunch, don your tightest cycling shorts and join us on the road!
The more the merrier on this journey and we'll like you even more if you bring cake, so get tracking us on our live tracking map and when we pass your patch, come and find us. Unfortunately we might not be contactable in some parts of the world but we won't be hard to miss, finding us makes it more exciting right?!
be our 3rd wheel
We've mastered the art of social media from the saddle, so get on board and and be our 3rd wheel as we share our stories, selfies with new friends and daily updates on our saddle sore from around the globe on Facebook, Twitter and Instagram.
The links are just below. Go on, give us a like and have a giggle.
Blog
Want to know what's running through our heads while on the road? Browse our blog for the latest on what we're up to and how we're feeling!
Latest Posts:
Search the Blogs
Use key words and phrases to search our past blog posts.
Archive
Look into the past and scour our archive of old and dusty blog posts, a gratifying way to procrastinate!
Contact the tandem men
We're a friendly bunch, and nothing gets us more excited than a well worded letter or email.
So if you're interested in our expedition, have some questions, would like to meet us en route or are interested in sponsorship opportunities, brew a tea and write us an email at:
THETANDEMMEN@GMAIL.COM
We'll respond to everyone who contacts us, and we may send you some treats.